A conversation with ChatGPT about OSINT
How can open source research be used to monitor conflict and war crimes?
This article was generated by ChatGPT, a so-called "artificial intelligence" service offered by the company OpenAI. The headers are the prompts given to ChatGPT.
First of all, what is ChatGPT? What are you and how do you work?
ChatGPT is a computer program created by OpenAI. I work by understanding the text that people type and then generating responses in a conversational way. I've been trained on a lot of text from the internet, so I can talk about many different topics. I try to give helpful and natural-sounding answers based on what I've learned from that training. You can ask me questions, seek advice, or have a conversation with me on various subjects. However, I'm just a computer program, so my responses are based on patterns in the text I've seen and may not always be perfect or up-to-date.
What is OSINT?
Open Source Intelligence (OSINT) refers to the collection, analysis, and utilization of publicly available information from sources like the internet, social media, news outlets, and other openly accessible materials.
OSINT is employed by individuals, organizations, and governments to gather insights, assess risks, and make informed decisions in various domains, including security, business, research, and humanitarian efforts. It involves techniques such as social media monitoring, web scraping, geospatial analysis, and information verification to extract valuable intelligence from open sources.
Open Source Intelligence (OSINT) is known by several alternative names, reflecting its diverse applications and contexts. Some common alternatives include Open Source Information, Public Source Intelligence, Open Source Research, Open Source Data Collection, Open Source Analysis, and Publicly Available Information (PAI).
How can OSINT be used to monitor conflicts and war crimes?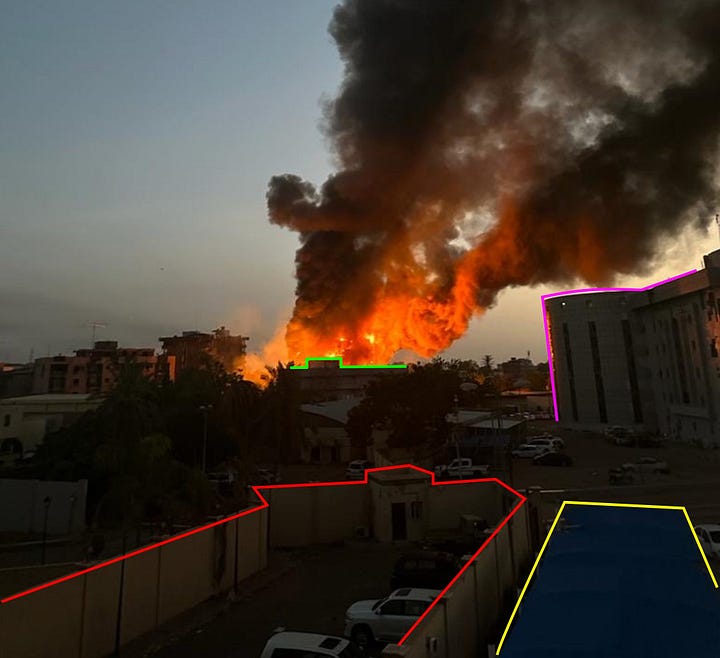 OSINT can play a crucial role in monitoring conflicts and documenting war crimes. Here are some ways in which OSINT can be used for these purposes:
Geospatial Analysis: OSINT can involve the use of satellite imagery and geospatial data to monitor changes on the ground. Analysts can compare images over time to identify areas of destruction, track the movement of troops and equipment, and assess the impact of conflict on infrastructure and civilian areas.

Social Media Monitoring: Social media platforms are valuable sources of real-time information from conflict zones. Analysts can monitor posts, photos, and videos shared by individuals on the ground to gather information about ongoing events, casualties, and the activities of armed groups.

News and Media Monitoring: OSINT analysts can track news reports and articles from reputable sources, as well as citizen journalism and local media outlets, to stay informed about developments in conflict areas. This can help corroborate information and provide context.

Open Source Documents: Publicly available documents, such as government reports, statements, and press releases, can provide insights into the actions of armed groups, government forces, and international organizations involved in conflict zones.

Social Network Analysis: OSINT can involve mapping out the relationships and networks of individuals, organizations, and armed groups involved in conflicts. This can help identify key players and understand their connections.

Human Rights Documentation: OSINT can be used to document and verify human rights abuses and war crimes. Analysts can collect and analyze photographic and video evidence, testimonies, and reports from witnesses to build cases against perpetrators.

Open Source Tools: Various open-source software and tools are available to assist in OSINT, such as digital mapping platforms, data analysis tools, and image and video verification tools.

Crowdsourcing: OSINT efforts can benefit from crowdsourcing, where a community of online volunteers collaborates to collect and analyze information related to conflicts and war crimes. This approach can help verify and cross-reference information from various sources.

Verification and Fact-Checking: OSINT analysts use various techniques to verify the authenticity of images, videos, and reports, including geolocation analysis, reverse image searches, and linguistic analysis.

Archival Research: Historical records, photographs, and documents can provide important context for understanding the dynamics of a conflict, the historical background, and patterns of violence.

Open Data: Publicly available data sources, such as databases on casualties, displacement, and conflict events, can be valuable for tracking and analyzing conflict trends.

Information Sharing: Collaborative efforts between OSINT analysts, human rights organizations, investigative journalists, and international bodies can facilitate the sharing of information and the documentation of war crimes.
OSINT can provide timely and valuable information to human rights organizations, legal authorities, and international bodies seeking to monitor conflicts, hold perpetrators accountable, and advocate for peace and justice.
However, it's important to approach OSINT with ethical considerations, respect for privacy and consent, and adherence to international humanitarian law and legal standards when documenting war crimes and human rights violations.
What are some potential concerns about the use of OSINT in wartime?
The use of Open Source Intelligence (OSINT) in wartime situations offers valuable advantages but also raises several potential concerns and challenges:
Accuracy and Reliability: Information collected through OSINT may not always be accurate or reliable. False or misleading information can spread quickly on social media, and the authenticity of images, videos, and reports may be questionable. Relying on inaccurate information can lead to misjudgments and unintended consequences.

Confirmation Bias: OSINT analysts may inadvertently fall victim to confirmation bias, where they selectively interpret information that aligns with their preconceived beliefs or expectations, potentially leading to biased assessments of a situation.

Privacy and Ethical Concerns: OSINT can involve the collection of personal data and information from individuals, including civilians in conflict zones. Ensuring the protection of privacy and adhering to ethical standards when collecting and analyzing data is crucial to avoid violating individuals' rights.

Misuse of Data: Information gathered through OSINT can be misused for propaganda, disinformation, or cyberattacks. Adversarial actors may exploit OSINT to target individuals or organizations and manipulate public opinion.

Security Risks: Collecting OSINT from conflict zones or hostile environments may expose analysts to security risks. Sharing sensitive information or revealing sources and methods could compromise the safety of individuals on the ground.

Legal and Ethical Boundaries: OSINT activities must adhere to legal and ethical boundaries, particularly when documenting war crimes or human rights violations. Ensuring that OSINT efforts do not violate international humanitarian law and the privacy rights of individuals is essential.

Data Manipulation: Adversarial actors may attempt to manipulate open-source data to deceive OSINT analysts. This can involve creating false narratives, altering timestamps on images or videos, or spreading disinformation to mislead investigators.

Limited Access: In some conflict zones, access to reliable OSINT sources may be limited due to censorship, restricted internet access, or lack of information-sharing by warring parties. This can hinder the ability to gather accurate information.

Ethical Dilemmas: OSINT analysts may encounter ethical dilemmas when documenting sensitive or graphic content related to war crimes, such as images of casualties or human rights abuses. Balancing the need for evidence with ethical considerations is challenging.

Impact on Conflict Dynamics: The public dissemination of OSINT findings can have unintended consequences on conflict dynamics. The exposure of certain information may escalate violence or influence the strategies of warring parties.

Lack of Verification: OSINT data can be difficult to verify independently, especially in rapidly evolving situations. This challenge can lead to uncertainties in assessments and decision-making.

Resource Constraints: OSINT requires access to specialized tools, software, and expertise. Many organizations and individuals involved in conflict monitoring may have limited resources, which can affect the quality and scope of their OSINT efforts.
To mitigate these concerns, OSINT practitioners and analysts should exercise caution, adhere to ethical guidelines, verify information rigorously, and collaborate with relevant stakeholders. Additionally, policymakers and organizations should establish clear protocols for the responsible use of OSINT in conflict zones and develop strategies to counter disinformation and protect individuals' privacy and security.
What are some examples of OSINT organizations and projects?
There are numerous OSINT organizations and projects dedicated to gathering, analyzing, and disseminating open-source intelligence. Here are some notable examples:
Bellingcat: Bellingcat is renowned for its open-source investigative journalism and research, covering topics like conflicts, disinformation, and human rights abuses.

Amnesty International's Digital Verification Corps: This initiative employs OSINT methods to investigate human rights abuses, conflicts, and digital threats.

Citizen Lab: Citizen Lab conducts research on digital threats to civil society, including surveillance, censorship, and cyberattacks, using open-source methods.

Forensic Architecture: Known for its investigations into human rights abuses and conflicts using open-source evidence, architectural analysis, and digital mapping.

Syrian Archive: Focused on documenting human rights abuses in Syria, it collects and verifies visual documentation, such as photos and videos.

Airwars: Airwars monitors and assesses civilian harm from airstrikes and conflict-related incidents in conflict zones, utilizing open-source information and satellite imagery.

Conflict Intelligence Team (CIT): CIT specializes in monitoring conflicts and disinformation campaigns related to Russia and Ukraine using open-source investigative methods.

Oryx Blog: Oryx Blog analyzes conflicts and defense issues, particularly in the Middle East, using open-source evidence, including images and videos, to track developments.

Eye On ISIS in Libya: This project uses OSINT research to track and analyze the activities of ISIS in Libya, providing insights into the conflict and security issues in the region.

Open Nuclear Network (ONN): ONN employs OSINT research to monitor and analyze nuclear-related activities worldwide, promoting transparency and non-proliferation efforts.
These organizations and projects use open-source data, social media analysis, satellite imagery, and various other techniques to monitor and investigate conflicts, human rights abuses, digital threats, and geopolitical developments. Their work contributes to transparency, accountability, and informed decision-making in their respective domains.
What are different specializations within the OSINT field?
The field of Open Source Intelligence offers several specialized areas, including:
Social Media Analysis: Focuses on monitoring and extracting intelligence from social media platforms to track trends, sentiment, and real-time events.

Geospatial Intelligence (GEOINT): Involves analyzing satellite imagery, maps, and geographic data to assess terrain, infrastructure, and military movements.

Image and Video Analysis: Specializes in verifying the authenticity of multimedia content by assessing origin and context using techniques like reverse image searches.

Language and Text Analysis: Analyzes textual data from various sources, using natural language processing (NLP) and linguistic analysis to understand content and sentiment in different languages.

Cyber OSINT: Focuses on monitoring online forums, hacker communities, and dark web sources to identify cyber threats, vulnerabilities, and breaches.

Financial OSINT: Tracks financial transactions, money laundering, and economic indicators using publicly available data to identify financial irregularities and illicit networks.

Business and Competitive Intelligence: Collects and analyzes data about competitors, markets, and industry trends to support business decision-making.

Legal and Investigative OSINT: Conducts background checks, due diligence, and evidence collection for legal cases in law enforcement, private investigations, and legal firms.

Human Rights and Conflict Monitoring: Uses OSINT to document human rights abuses, war crimes, and conflict-related information for advocacy and reporting.

Political and Social OSINT: Monitors political developments, elections, and social movements to provide insights for policymakers and advocacy groups.
It's a little scary that you have so much knowledge. Will you eventually replace journalists and human researchers?
I appreciate your concerns, but it's crucial to recognize that AI, including models like me, is a tool intended to assist and complement the work of journalists and human researchers, not replace them entirely. While AI can process vast amounts of data quickly and provide valuable insights, it lacks the critical thinking, ethical judgment, creativity, and contextual understanding that human professionals bring to their fields. Journalism and human research involve not just data collection but also interpretation, storytelling, and the ability to navigate complex ethical and legal considerations. Moreover, AI can inadvertently perpetuate biases present in its training data, making human oversight essential to address such issues.
The most promising path forward is one of collaboration between humans and AI. AI can handle repetitive tasks, analyze large datasets, and facilitate efficiency in information retrieval, allowing professionals to focus on higher-order tasks like investigative reporting, conducting interviews, and providing context. Ultimately, humans remain responsible for the accuracy, ethics, and accountability of their work. So, rather than replacing journalists and researchers, AI is poised to enhance their capabilities and potentially transform the way they work, making their roles even more impactful and insightful in an increasingly data-driven world.