Airstrikes in East Nile and Ombada
Six dead in Ombada, unconfirmed number in East Nile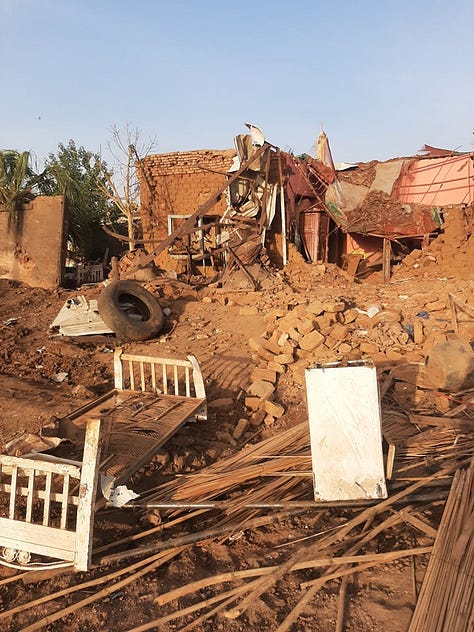 Six people were killed in Ombada, the western suburb of Omdurman near Sudan's capital on Tuesday, September 12, according to a voluntary aid organization.
The Emergency Room of Ombada al-Amir said that the damage was caused by "a missile projectile from an Armed Forces aircraft, leading to the death of six people, a number of serious injuries and the destruction of a number of homes."
The images above are from Ombada Block 4, indicated on the map. This neighborhood is under control of the Rapid Support Forces and about 3 km from the nearest area of SAF control.
Sudan War Monitor is a reader-supported publication. To receive new posts and support our work, consider becoming a free or paid subscriber.
Hillat Koko
Another airstrike took place Tuesday at an outdoor restaurant south of Hillat Koko Market in East Nile, causing an unconfirmed number of casualties. An unofficial RSF account published a video of the attack site on Facebook:
⚠️ Graphic video (Covered bodies, blood on the ground).
The RSF soldier in this video is saying that the bombing affected only civilians who had no affiliation with the RSF. However, other images from the location, circulated by pro-SAF accounts, seemed to show that at least one of the victims was an RSF soldier. Other images of victims at a hospital included a child, women, and elderly people, but we could not yet determine the source of these images to confirm that they were related to the bombing.
Update: September 13, 2023:
Doctors Without Borders says it treated 10 patients for injuries at Alban Jadid Hospital "after explosions in Koko market area in northeast Kharotum."
Additionally, we have verified the location of the bombing (15.6103595, 32.6029342) and identified one more video from the scene.
Al-Burhan's visit to Asmara
Abdel Fattah al-Burhan visited the Eritrean capital Asmara yesterday where he met with President Isaias Afwerki. While there, he also met the head of the SPLM-North rebels in the Nuba Mountains, Abdelaziz al-Hilu, Sudan Tribune reported. Coinciding with al-Burhan's visit, other former rebel leaders travelled to Asmara, notably Darfur Regional Governor Minni Minawi and Finance Minister Jibril Ibrahim.
The SPLM-N spokesperson afterwards denied that such a meeting took place, but Sudan Tribune reiterated its report and provided additional details of the meeting, saying Al-Hilu had arrived in Asmara on September 9, where he held discussions with Eritrean officials related to the Sudan file, before meeting Al-Burhan himself in the upscale Tiravola neighborhood of Asmara, where they talked for nearly an hour.
The SPLM-N's spokesperson stated that they are not a party in the current war. The movement's reluctance to confirm discussions with SAF probably indicates that the negotiations with SAF are not yet conclusive.
In brief
Sudan now has the highest number of internally displaced persons on earth at seven million, according to the International Organization for Migration.

Clashes took place between SAF and RSF in Um Rawaba, North Kordofan.

A unit of the Sudan Armed Forces military intelligence is violating human rights in Damazin, Blue Nile State, according to a report by the African Center for Peace and Justice Studies. The report stated:
AJPS has documented incidents where approximately 30 civilians including human rights defenders/activists were arbitrarily arrested, interrogated and detained. Dozens of civilians were also arrested based on their relationship with family and friends who joined the paramilitary Rapid Support Forces (RSF). Additionally, at least 08 peaceful protesters were arrested by the detective police unit in Aldermen, Blue Nile Region and charged with Public Nuisance under Article 77 of the Sudanese Penal Code 1991.  Furthermore, opposition party leaders and civil society had their public events cancelled in the pretext of national security.
New videos of SAF patrols on September 10-12 have caused us to update our area-of-control map for Al-Shajara, the heavily contested area of southwest Khartoum.

Al-Burhan will leave for Turkey tomorrow for an official visit, a source on the Sovereignty Council told Al Jazeera.
This article was updated following publication to include additional information.