Déby visits Adré as hundreds of wounded cross from West Darfur
Chadian leader puts on a show of force at the Sudan border
Chad's Transitional President Mahamat Idriss Déby arrived Saturday, June 17 in Adré and spent two days in the border town before proceeding to the regional capital Abéché on Monday, June 19.
Déby met with military chiefs and humanitarian leaders, visited two hospitals, visited Sudanese refugees at a high school in Adré, and visited Koufouroune camp, which is at the border.
The Chadian leader filmed a brief message to Hemedti and Burhan. Seated in a mixed military-humanitarian setting and speaking in French and Arabic, he said in part, "As I have often said, I would like to call on the President Burhan and the President Hemedti to stop the war, to stop the war because there won't be any winners in this war. In the name of God and for the Sudanese people, may they stop this war."
Déby wore military uniform and sat surrounded by bodyguards. Crowds of mostly female refugees were visible in the background.
I take the message to be mostly performative. Déby doesn't necessarily expect that his appeal will be heeded by either party, and he has delivered the same message on prior occasions. Most noteworthy is that he called Hemedti "president." Some regional analysts believe that Chad could be pulled into the conflict (on the side of the Sudan Armed Forces). However, the Chadian leader's conciliatory and deferential tone toward Hemedti suggest to me that he is principally interested in putting on a show of strength and stabilizing his frontier rather than taking sides in the conflict.
Nevertheless, Déby knows well that members of his own forces have their sympathies—mostly on the side of the Sudan army and (in some cases) their tribal kinsmen who are under attack in West Darfur. It's possible that under domestic and international pressure Déby could be convinced to lead an intervention into Darfur. However, foreign powers (in particular the United States, which has thus far excluded Déby from its mediation initiative in Jeddah) are more likely to discourage him from such a course of action rather than encourage it.
Déby's intervention at the Sudan border is the most direct personal intervention of any leader of Sudan's neighbors. For comparison, South Sudan's President Salva Kiir has hosted envoys from the two warring parties, but he hasn't visited refugees at the border or inspected troops there as Déby has done.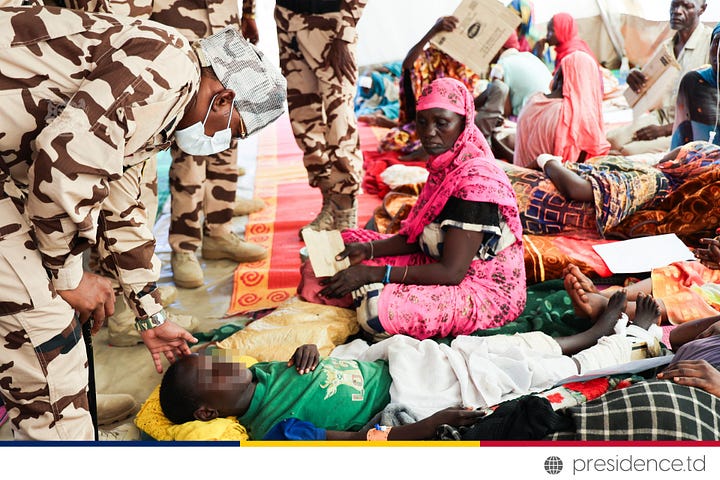 A feast for the refugees
Déby's visit isn't just for the cameras. It is also intended to establish a reputation locally as a protector and patron of the new refugee arrivals in Eastern Chad, which number more than 100,000. This population represents a distinct constituency with its own political agency, which could play a significant role in conflict dynamics in the region in the coming years. Acting on Déby's personal orders, the Chadian army's eastern sector commander General Ousmane Bahar Itno oversaw the slaughter and preparation of hundreds of sheep at a refugee camp in Adré on Saturday.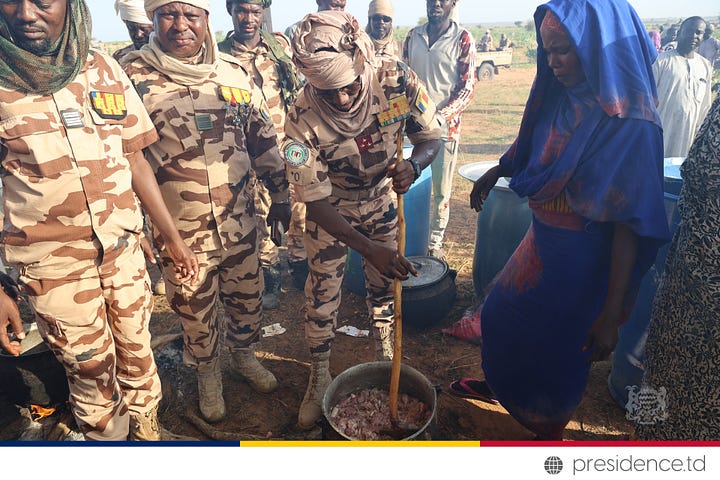 Chadian military mobilization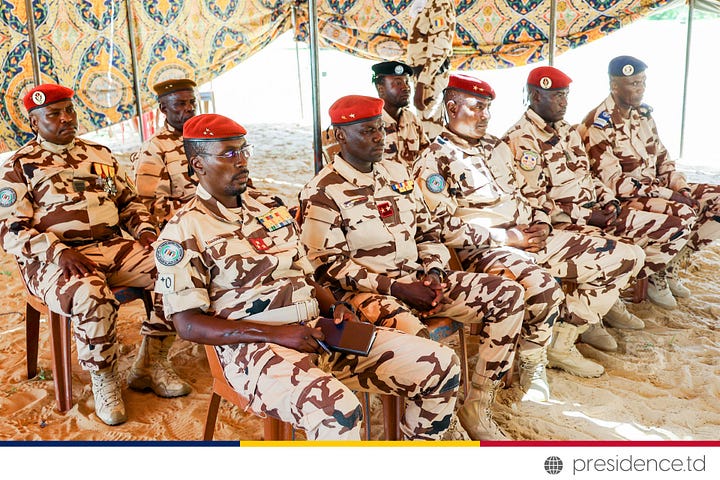 On Sunday, Déby continued his stay in Adré, meeting with officials of humanitarian organizations as well as defense and security commanders.
Videos circulating on social media suggest that thousands of Chadian army reinforcements have arrived recently in the border area. This mobilization is in addition to the joint border force of the Sudan Armed Forces and Chadian military, which had patrolled the borders since before the war.
Moreover, the flight of security forces from West Darfur presents an opportunity for Chad to integrate these forces into its own military or sponsor them as standalone groups. Demobilization is unlikely.
Some French forces have accompanied the Chadian deployments. Chadian forces have operated at the border and possibly across it as well, in defense of refugees fleeing from RSF and allied militia attacks. However, the extent of the cross-border operations is unconfirmed. Sudan War Monitor reported on June 16 that at least two Chadian soldiers were killed in clashes with the militias.
Because the border isn't well demarcated, the Chadian forces have some discretion as to where to deploy and what actions to take.
Yousra Elbagir of Sky News reported yesterday that "Adre's Prefet Ali Mohamed denies the reports of recent clashes between the Chadian army and the RSF." However, she added that during an embed with Chadian forces May 29, the Chadians "captured 60 allied Arab militia men trying to chase Masterei residents into Chad and disarmed and detained them." This report of one incident on just one day highlights how volatile the border area is and the extent of interactions between the Sudanese militias and the Chadian military, which could easily explode into open conflict.
Wounded from Darfur
Meanwhile, hundreds of wounded Sudanese have been evacuated across the border (or reached hospitals in Chad after making their way on foot).
MSF stated June 16, " A total of at least 622 injured patients have been received over the last three days… A large proportion of the wounded are coming from El-Geneina, the capital of Sudan's West Darfur state, and its surroundings, which are the scenes of ongoing and intense violence. Local sources report that at least 1,100 people have been killed in El-Geneina city since the conflict began in mid-April."
Dr. Mahamoud Adam, the chief medical officer at the Adré hospital, said that the hospital received more than 800 patients so far, according to Chadian news source Al Wihda. "We don't have enough space for all of them," he said.
Hemedti's PR team responds
Hemedti's media team released a statement in his name on Monday responding to Déby. The statement said, "In the face of adversity, our kinship with Chad — a bond deeply rooted in history and fortified by mutual respect and cooperation — shines brighter than ever. The spirit of hospitality, generosity, and solidarity displayed by the people of Chad, under the leadership of President (Deby), is a testament to their unwavering support for their Sudanese brethren."
"Forced from their homes by the tribulations of war, the Sudanese people find refuge in Chad — their second homeland. We express our heartfelt gratitude to President Deby and the Chadian people for their invaluable support in these challenging times. We firmly believe that this storm will pass, that the crisis brought about by the corrupt junta that has kindled wars and sowed discord among our communities in Darfur will come to an end. Their reign of manipulation and control over our nation's destiny is nearing an end. United, we stand stronger than ever, buoyed by the brotherhood and goodwill that binds us with Chad."
RSF portray El Geneina violence as "tribal conflict"
Lastly, in a related development, the RSF released an audio recording of their sector commander in West Darfur, Abdulrahman Juma, who recently was filmed with the West Darfur governor shortly before his death.
He described the conflict in Al Jeneina as a "tribal" one. This is an oft-repeated RSF talking point to deny RSF's involvement in the killing of civilians. By his account, RSF are innocent bystanders and victims themselves, who have been attacked. But as Al Jazeera recently reported, "nearly every refugee we interviewed along the border said uniformed RSF members were fighting with the Arab militias." Satellite evidence confirms that non-Arab (Masalit, Bargo etc) neighborhoods and villages around Al Jeneina have been targeted and burned. The violence in Al Jeneina is along ethnic lines, for sure, but calling it a "tribal conflict" implies an even fight and is akin to calling the Srebrenica massacre a "tribal conflict."
Juma also denied responsibility for the recent murder of the West Darfur governor. He claims he was trying to protect him. RSF published the audio message after coming under widespread condemnation domestically and internationally for the murder of the West Darfur governor.
Additional Media
Video about the arrival of President Déby, produced by his media team:
---
Thank you for reading Sudan War Monitor. If you have gotten this far, know that you are one of the privileged few subscribers of this recently launched newsletter. The information environment in Sudan is chaotic and fraught with disinformation and propaganda. The initiative aims to help. Please subscribe and share.