'Disaster' at Al Nou Hospital after heavy fighting in Omdurman
More than 100 wounded at just one hospital
More than 100 civilians were wounded yesterday as the Sudan Armed Forces (SAF) and Rapid Support Forces (RSF) battled across a broad front in Omdurman.
The Volunteer Initiative to Support Al-Nou Hospital, affiliated with the Karari Resistance Committees, stated,
"Since morning Al Nou Hospital has suffered a severe shortage of personnel, medical supplies and life-saving medicines due to the powerful clashes that have been going on since dawn, and with serious injuries, the situation has become catastrophic."
Similarly, the Karari Emergency Room Media Office stated:
Urgent Appeal for Al Nou Hospital

There are so many cases in Al Nou Hospital urgently.

Internal doctors, brain and neurosurgeons

Gauze and anesthesia

The situation in the hospital is currently a disaster.
Medical sources said there were 24 fatalities and more than 100 wounded at the hospital, which is located a few kilometers north of the front between RSF and SAF. There were also clashes in other areas, including Ombada.
The preliminary committee of the Sudan Doctors Union urged medical staff to go to Al Nou Hospital to help the injured, saying in a statement that there was a particular need for surgeons, emergency and internal doctors, surgical gauze and anesthesia.
Additional casualties in the RSF-controlled areas in Old Omdurman were not included in the above tally. The Beit Al Mal Revolutionary Committee yesterday shared photos of houses it said were bombed and also named two women and two girls who were killed. "There are many injuries, some of them were transferred to Al-Nou Hospital and some were unable to transfer."
Deaths and injuries from airstrikes were also carried out Monday in Ombada Al Hara 6 (أمبدة الحارة السادسة). According to one of the local emergency committees, a bombing hit homes on Al-Radamia Street, killing three people and injuring five. Three victims were transferred to Al Amir Emergency Room.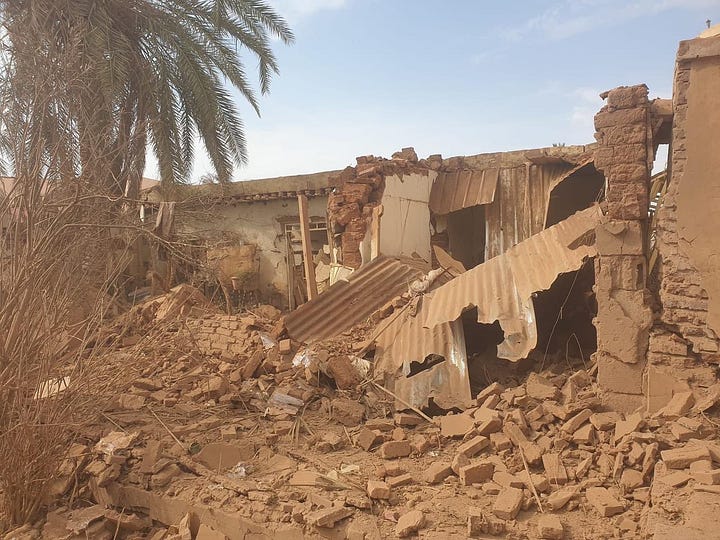 Please share this email with a colleague or friend so we can grow our initiative.
Terror in the neighborhoods
The fighting over the past three days in Omdurman (July 2-4) is more intense than it has been for weeks, and by some accounts is the heaviest fighting in the area since the war began. This represents a break from the typical pattern of violence in Greater Khartoum in which there is a day or two of heavy fighting followed by a period of more sporadic clashes or calm.
We will provide additional context and analysis of the military situation in future posts. For now, here are a few videos that give a snapshot of the situation and the terror that residents are living through. This first video shows the perspective of a citizen recording the sounds of clashes. It was shared by the Karari Resistance Committees without giving a precise location for where it was filmed.
This next video comes from SAF sources and was filmed Monday or Tuesday at the Magic Land Junction, which is is just north of a Central Reserve facility. The forces in the video are GIS Operations Authority and Central Reserve.
This next video shows Special Forces based out of Corps of Engineers in central Omdurman firing north across Abu Anga Creek into the Al Mawrada neighborhood (📍15.6303931, 32.4809262). Related video clips from near here show SAF also firing north along Al Arbaeen Street.
In another military development, the RSF shot down a warplane in Omdurman. Videos showed debris from the plane falling from the sky, and later videos showed the pilot in RSF captivity.
MSF: 'We have daily power problems in Khartoum'
Doctors Without Borders/Médecins Sans Frontières (MSF) on Monday published an interview with Dr. Mego Terzian, the MSF head of mission in Sudan. The interview focused on MSF's support for the Turkish Hospital in southwestern Khartoum, which recently dealt with an influx of war wounded from clashes around the Central Reserve headquarters situated on the Jebel Aulia highway.
Here are excerpts from the interview:
Before the conflict began on April 15, the Turkish Hospital had only two main departments: pediatrics and maternity, as well as a small dialysis center… In mid-May, MSF began providing support, and in the five weeks that we've been present, we've been able to help the Ministry of Health transform the Turkish Hospital from a small, specialized facility into one that is capable of responding to mass casualty events.
We have daily power problems, and in a hospital this can have life or death consequences. It's the same with oxygen. In the Turkish Hospital, there is a neonatal unit where there are three babies in incubators who need a constant supply of oxygen—without it, they will die. For patients who need dialysis, electricity is vital for their treatment. And for surgery, we cannot operate without either of these. So we are fire fighting every day, looking for additional supplies, looking for additional oxygen cylinders, so that we can continue to try and save people's lives. At times, it is possible to access items from the hospitals that are closed, but there are risks with doing this, due to the ongoing fighting. The reality is that every day, there is a new problem to deal with. But for the moment, we are capable of dealing with these difficulties and we are able to help all the patients who manage to reach our hospital.
Psychological support initiative
Finally, we'll conclude this post with a few photos from the Kalakla Emergency Room, a volunteer initiative. They carried out a psychological support event for the children at the Turkish Hospital.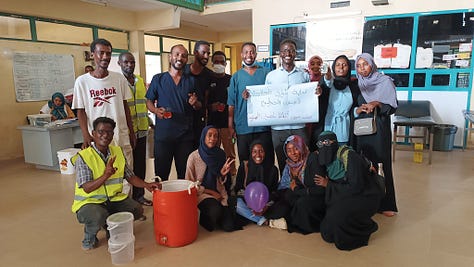 Please share this email with a colleague or friend so we can grow our initiative.