Eid ceasefire violated but without heavy fighting
Rapporteur: RSF killed human rights workers in Al Jeneina
Despite ceasefires announced by both sides for Eid Al Adha, residents in parts of Khartoum woke yesterday, June 28, to the sounds of gunfire. There was light or moderate fighting in various areas of Bahri and Omdurman, and reported aerial bombings. But there weren't any major battles or reported changes in areas of control.
Large fire Central Reserve Omdurman
A large fire broke out yesterday at a paint and repair show near the Al Bakri cemetery in Hai Al Umda in north Omdurman, billowing heavy smoke from burning paint and grease and, possibly, also burning up a neighboring auto repair shop.
Thanks for reading Sudan War Monitor! Subscribe for free to receive new posts and support our work.
The fire could have started accidentally, but this is in a frontline area. Also, the fire broke out only about 100 meters from a complex used by the Central Reserve Police in Omdurman (not to be confused with the Central Reserve headquarters in southwestern Khartoum that was attacked last week).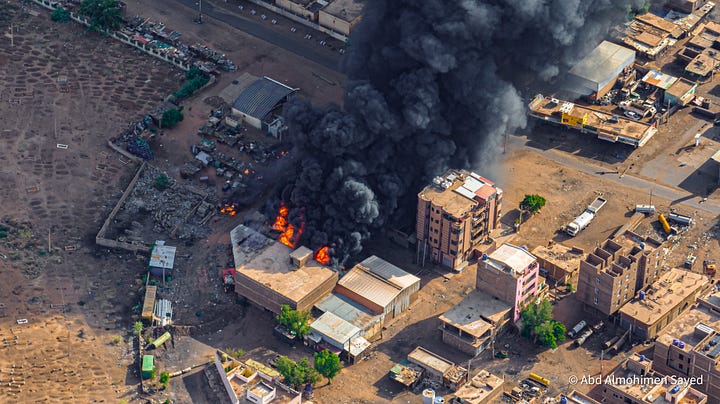 A technical is visible on the grounds of the Central Reserve facility in the above photo. However, the image is too blurry to identify its affiliation. The aerial photographs of the scene were taken by videographer Abd Almohimen Sayed,
Airstrikes around Omdurman Corps of Engineers
A correspondent for Al Jazeera reported yesterday afternoon (June 28) that warplanes bombed positions of the Rapid Support Forces in the areas of Mansoura, Mohandisin and Al Fatihab. Separately, videos circulated on social media of one reported airstrike in Al Fatehab. The specific location hasn't been confirmed.
Several RSF soldiers are visible in the video, including one filming, and RSF circulated the video. Al Fatehab witnessed heavy fighting about a week ago.
Drone Warfare
Affiliated RSF social media pages also circulated video claiming that they down shot down a drone (during the Eid ceasefire).
Both sides in the Sudan conflict are using drones, but they are not as significant as they are in the Ukraine war, for comparison. They have principally been used for reconnaissance. However, there was an alleged drone attack by the RSF on a SAF technical in Kalakla several days ago, and SAF recently released this video showing what may be one of the first documented attacks using a small munition.
Mortar Attacks Across the Nile
Yesterday our team also located a video of the Sudan army carrying out mortar attacks across the Nile from Omdurman to Bahri. This location (~ 15.7160830, 32.5250861) is about 500 meters from the Halfaya Bridge.
Note the commander with radio talking with a spotter. Although the video was posted yesterday, the date is uncertain. In a previous post, we shared a video of SAF launching rocket attacks across the Nile from a location near here.
IRCR facilitate release of prisoners
Coinciding with Eid, the International Committee of the Red Cross (ICRC) facilitated the release of a large group of SAF war prisoners, possibly as part of a prisoner exchange—though there is no confirmation yet that any RSF prisoners were released.
The RSF took the opportunity to make a propaganda video showcasing their magnanimity. In the below video a spokesperson of the RSF hands out bundles of cash to SAF prisoners who are about to be released. He says that the amount is the equivalent of $80 for 125 prisoners, which would be about $10,000.
This payment could be intended to try to incentive the prisoners not to return to the battlefield after their release. But it also just fits within a broader patter of extravagant displays of benevolence that are part of the RSF propaganda strategy.
ICRC have yet to confirm the handover of these prisoners, but their personnel are visible in the video.
Human rights workers targeted in West Darfur
Mary Lawlor, the UN Special Rapporteur on Human Rights Defenders issued a statement yesterday about killings in West Darfur:
Over the last month, seven human rights defenders have been killed in El-Geneina, West Darfur. I condemn these tragic, abhorrent attacks.

Those targeted have included lawyers and human rights monitors. All seven reportedly received threats from militia members prior to the killings, indicating they may have been specifically targeted for their human rights work. Of those killed, many were attacked at their homes alongside their family members.

The attacks have taken place in the context of generalised violence resulting from the ongoing power struggle in the country, with the situation in El-Geneina now disastrous. Several of the killings have been attributed to the Rapid Support Forces (RSF).

HRDs in Darfur and across Sudan have been at the forefront of humanitarian efforts since the recent conflict in Sudan broke out, providing emergency services all the while seeking to document violations and support victims.

The killings give rise to extremely serious concerns for the safety of other defenders in the country, as well as for their family members. They cannot be allowed to rest in impunity.

I am committed to following the situation and express my full solidarity with all defenders in the country.
Thanks for reading Sudan War Monitor! Subscribe for free to receive new posts and support our work.