Sudan army launches major offensive in Khartoum
Videos of heavy fighting in Bahri as SAF attempts to regain the initiative
The Sudan Armed Forces advanced on multiple axes in Khartoum on Sunday, June 11, following the expiry of the 24-hour ceasefire at 06:00. It was the fiercest fighting since the Rapid Support Forces' (RSF) attack on the Yarmuk munitions complex June 6-7 and followed the arrival of SAF reinforcements from other parts of the country.
Clashes took place near the Halfaya Bridge, near Manshia Bridge, in Kafouri, in Southern Belt, and north of Armored Corps. Given the "fog of war" it is impossible to know the full situation, but I'll share a few videos and reports that give a general picture of what happened. This blog post is based on a Twitter thread in Arabic that I produced with the help of @faisalelsheikh and @mustapro, who are specialists in geolocation. Although I am currently writing these reports in a personal capacity, my longer-term goal is to contribute toward Sudanese-led monitoring initiatives.
Both sides reported fighting along Al Shajara Avenue. In a statement in the afternoon, RSF said that they were attacked at the "Al Rowad (residential) complex in Khartoum," which is at the Remaiyla Roundabout, which they captured last week. They claimed they captured five tanks and burned two. For its part, SAF released this video, which shows its forces near Best Care Hospital advancing north toward the roundabout:
The northernmost point seen in the video is at 15.5556029, 32.5033547, at which point SAF open fire. It isn't clear if they took control of the roundabout, which has changed hands several times in the last few weeks.
In its statement, RSF said it "tightened the siege of the Shajara Armored Corps base from all sides," suggesting that there was fighting and/or artillery and mortar exchanges from other directions too. RSF largely completed the encirclement of the Armored Corps base last week after the fall of the Yarmuk complex to the south. (Simultaneously, as I reported June 8, SAF reinforced the Armored Corps with the 17th Infantry Division).
Fighting also occurred Sunday at about 08:00 or 09:00 on both sides of Halfaya Bridge, which connects Omdurman and Bahri. The RSF crossed the bridge to the Omdurman side for unknown reasons but were quickly repulsed.
The Coordination of Karari Resistance Committees reported heavy fighting "near the Halfaya Bridge roundabout," which is 1.7 kilometers west of the bridge itself and is controlled by SAF and fortified.
Various theories were discussed online about the reason for the fighting on the western (Omdurman) side of the bridge. One possibility was that the RSF performed a reconnaissance-in-force. Another is that they succeeded in repulsing an initial SAF approach on the bridge, "got excited" and crossed into Omdurman before quickly running into trouble and then running away themselves. A third suggestion is that SAF had intelligence about an impending RSF attack, which enabled them to repulse it quickly and then immediately go on the offensive.
This is all quite hypothetical but I just mention all these possibilities to highlight how little we can really know about the dynamics on the ground, even with verified reports of fighting and troop movements.
What is clear is that by mid-morning the army had taken control of Halfaya Bridge. This is a video confirmed by @mustapro showing that it was in fact filmed at the bridge (15.7138983, 32.5319482). Based on shadows, he estimated the time to be between 9:00 and 11:30. The SAF troops in the video are a mix of 9th Airborne and Air Force troops. They soon advanced into Bahri.
Simultaneously, the army attacked Bahri with a large force from the east. Some or all of the attackers came from the SAF Driving Camp near the University of Bahri, suggesting that forces there have been recently reinforced. Citizens reported clashes in El Hajj Yusuf and Kafouri. Some videos taken by citizens show SAF forces moving through neighborhoods in the area.
Later in the day, the RSF released videos of combat in the Air Street agricultural area and in Kafouri 3. One video filmed on Al Izba Street (15.6654405, 32.5695493) in Kafouri 3 shows that the RSF captured and burned several vehicles belonging to SAF.
The RSF also ambushed a SAF convoy about three kilometers east of there in the agricultural area along Air Street between Hajj Yusuf and Kafouri (15.6566007, 32.5850234). Caution: These videos are quite graphic and difficult to watch. One shows the combat as it is happening, and the other shows the aftermath.
The videos show that the army suffered losses. However, it would be premature to conclude just from these videos that the offensive has failed.
SAF also reportedly launched attacks from Signal Corps in the Kobar Bridge area and from General Command. Here are maps illustrating this by the geolocation specialist @truecope, who said she received reports from contacts in East Nile saying that SAF failed to reach Manshia Bridge.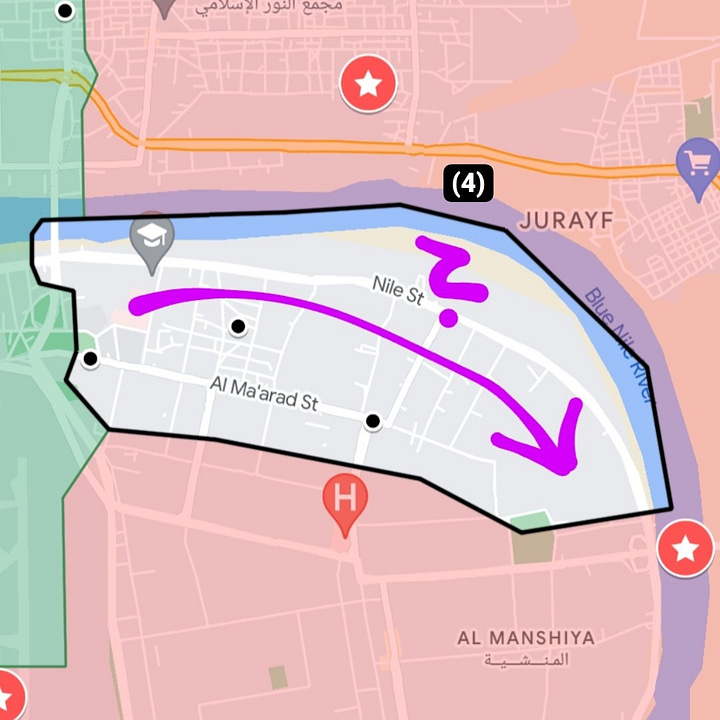 Finally, there was shelling in the Southern Belt region, starting at 06:30, including various blocks of Al Azhari, according to the Southern Belt Resistance Committees and Emergency Room. At least five people were killed and others wounded. I share here only one photo, but here's a link to additional photos from the scene (graphic).
Note that this surviving tail fin of a rocket was found at the site. It appears to be a BM-21 Grad rocket (exact type unknown as there are a number of variants and manufacturers). This type of rocket belongs to an MLRS system used by the Sudan Armed Forces, though it is likely RSF also have captured some of these MLRS.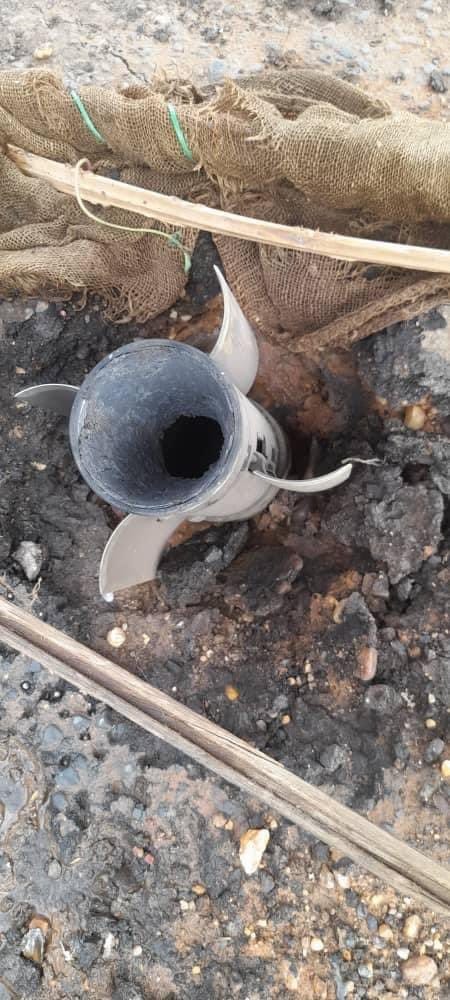 ---
Thank you for reading. If you have gotten this far, know that you're one of a few dozen subscribers to this (just launched) newsletter, so you're one of the privileged few. Unfortunately, Twitter suppresses Substack links, so it is hard to spread the word about the newsletter. Please help us to provide more monitoring and analysis by sharing it on social media, forwarding it to a colleague or friend, or volunteering to help. Note that I am writing these posts in a voluntary capacity and therefore likely will not post daily in such detail. However, given that Sunday marked the start of a significant new phase in the fighting, I felt it needed some detailed attention.
Thanks for reading Sudan War Monitor! Subscribe for free to receive new posts and support my work.