Civilians bombed in Khartoum's 'Black Belt', then denied medical care
⚠️ Graphic images: wounded civilians
ANALYSIS
The Sudan Armed Forces have injured or killed hundreds of civilians in Khartoum's Southern Belt—and now they are preventing the injured from accessing surgical care.
Médecins Sans Frontières (MSF), known in English as Doctors Without Borders, yesterday announced that they suspended surgery at Bashair Hospital "after military authorities blocked transport of surgical supplies from Wad Madani for over a month."
"It is devastating to have to stop supporting life-saving surgical care at Bashair Hospital. The needs are huge. Blocking the medication and materials needed to perform surgery deprives people of the healthcare they so desperately need," said Shazeer Majeed, MSF Surgical Referent.
"Despite engagements with the health authorities, supplies remain blocked and stocks are now depleted. We have no choice but to suspend surgical activities at Bashair Teaching Hospital and temporarily withdraw our surgical team," said Michiel Hofman, MSF operations coordinator.
A few observations about this development:
Bashair Hospital is located in RSF-controlled territory; the military may be refusing to allow surgical supplies in the area because they fear the supplies could be used by the RSF for their wounded soldiers.

MSF has not reported similar supply problems at the hospitals it supports in SAF-controlled areas.

Bashair Hospital has treated hundreds of civilians who were wounded in SAF bombings, drone strikes, and shelling. The deadliest of these attacks was a bombing of Goro Market in September, which killed more than 40 people.

The hospital also treated victims of SAF shelling in Mayo on May 31, which killed 18 people and wounded more than 100 others, according to the Sudanese Doctors' Union.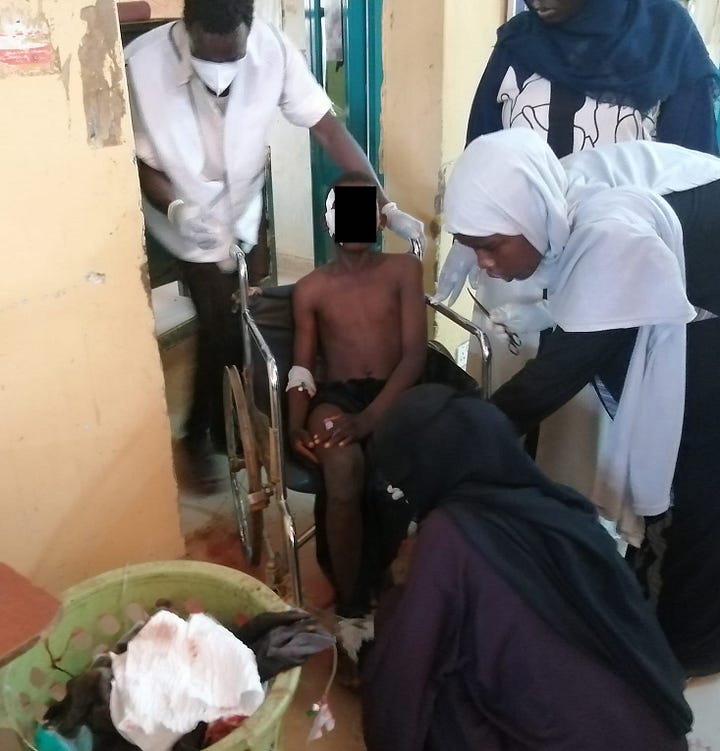 Another bombing occurred 5 km north of the hospital September 27, killing a group of women, according to geolocated video of the incident.

Two civilians were killed and 20 others injured, including six children, in a bombing in Hai Mayo Block 31 on September 30, according to the Southern Emergency Room, an initiative of hospital volunteers.

Aftermath of a bmobing in Hai Mayo Block 31 on September 30, 2023

These are just a few examples of mass casualty events in the area. There have been others. The hospital also supports maternal health services for a vast area of southern Khartoum. MSF says that since mid-May, surgical teams have performed nearly 5,000 emergency interventions and 3,000 surgical procedures, including trauma surgery and c-sections. "Thousands of lives have been saved. Without new supplies, these activities cannot continue."

Another MSF-supported hospital in southern Khartoum, Turkish Hospital, will likely run out of supplies within two weeks.
Hai Mayo is part of what is sometimes called pejoratively the "Black Belt," referring to a zone of suburbs and displaced camps around Khartoum that historically housed many people who had fled from war zones in South Sudan and Darfur.
As explained by researcher Ahmed Elzobier, writing soon after the Darfur genocide, the Black Belt was a place of "unchecked prejudices against people from Darfur and Kordofan," whose residents were regarded by the Riverine Islamist elites of the al-Bashir regime as "the enemy within." The area is also home to many South Sudanese.
Given this history, the repeat targeting of the Southern Belt and the denial of medical services to the area probably is not accidental. It is instead a result of devaluing and dehumanizing those who live there. Racial prejudice is being passed off as actionable military intelligence, resulting in horrific atrocities against civilians. These attacks may even reflect a deliberate effort to depopulate the area, as has been suggested by the organization Emergency Lawyers.
What's the point?
Under international military law, the principle of "proportionality" prohibits attacks against military objectives which are "expected to cause incidental loss of civilian life or injury to civilians, which would be excessive in relation to the concrete and direct military advantage anticipated," according to the ICRC.
For example, dropping a bomb to kill one soldier, if it also killed 20 civilians, would not be "proportional." It would be "excessive"—and therefore a war crime.
In my opinion, repeat bombings of the Southern Belt cannot meet the proportionality test because the area is quite far from the nearest frontline and any RSF troops in the area are dispersed widely. SAF have not achieved any discernible military advantage from bombing and shelling the Southern Belt over the past six months.
The attacks are completely ineffectual.
'No sympathy for civilian deaths'
When I tweeted about this a few weeks ago, one reader replied,
"Yes, the area represents an internal enemy in the view of many Khartoum residents, and they see it as a real security threat to them. This was their perception before the war, and this was actually proven during this war, so you will not find much sympathy for the civilian deaths in these areas."
This is racial prejudice, pure and simple.
Unfortunately, civilians will pay the price next time there is a bombing. Women and children with blown-off limbs and shrapnel wounds will show up at the Bashair Hospital, and there won't be anyone there who can operate on them.
What crime did they commit to suffer such a fate?
Shelling endangers Al Nau Hospital
Hospital operations are also endangered in Karari Locality of Omdurman—not by a blockade of medical supplies, but by RSF shelling. Two shells landed just a few hundred meters from Al Nau Hospital this morning, according to MSF Sudan, which is also supporting that hospital, as well as one other in the Khartoum region.
The same hospital was hit by a shell October 9, killing two people.
MSF Sudan noted on social media,
"Despite this deplorable attack, the medical staff continue to provide healthcare in extremely challenging circumstances. Al Nao is a functioning hospital, treating patients who have few other places to turn. It is simply unacceptable for hospitals to be threatened in this way, jeopardising the access to health care for the population. Hospitals and health care workers must be respected and protected at all times to be able to treat the ones most in need."
In a related development, the U.S. Department of State issued a statement yesterday, October 18, expressing deep concern at "credible reports that the Rapid Support Forces (RSF) has intensified its shelling in and around Nyala, South Darfur and Karari, Omdurman, deepening the suffering of the Sudanese people."
The statement added:
The United States calls on the RSF to immediately cease shelling of civilian neighborhoods and to protect civilians in Nyala, Omdurman, and throughout Sudan.  This reckless war, which began more than six months ago, has resulted in civilian deaths, the displacement of millions, and immense suffering that will affect generations of Sudanese.  Women and children are bearing the intolerable brunt of this conflict.  There is no acceptable military solution to this conflict – "victory" by either side would exact an intolerable toll on the Sudanese people and their nation.  The United States reiterates its call for the RSF and SAF to immediately stop the fighting and return to talks toward a negotiated exit from this conflict.
In brief
"This has all the hallmarks of ethnic cleansing," said the UK Minister for Africa, Andrew Mitchell, referring to recent events in Darfur.

Refugees in eastern Chad, who fled the attacks in Darfur, are reporting a lack of food and rising malnutrition.

RSF claimed they removed landmines from a town southeast of Khartoum.

The cholera outbreak in Sudan has spread, including within Gedaref State, and there are now more than 1,450 suspected cases and 64 associated deaths, according to the World Health Organization.

Health staff haven't been paid in many states, including in Blue Nile State. "Cholera kits were delivered to Damazine and supplies from last year are still available. However, the lack of salary payments to health Ministry staff could affect the response," OCHA said in a briefing about the outbreak.