RSF attack Wad Ashana in North Kordofan
Town lies along road linking Kosti and El Obeid
The Rapid Support Forces launched an attack on Wad Ashana of North Kordofan State at dawn on Sunday, October 1, according to videos and media reports.
In a statement later in the day, the RSF claimed that they were able to expel the army forces present in the area and take control of the town, capturing 12 combat vehicles, while the army did not issue any press statements about the clashes there.
In multiple video clips during and after the fighting, the group's leader Major Hussein Barshom appeared with others alongside a burning vehicle and captured vehicles.
In the first video above, Barshom instructs a soldier to stop shooting because "our people are ahead," i.e., out of concern for a friendly fire death, and he urges them to push forward with the attack. Other RSF vehicles are seen firing later in the clip, apparently in the direction of the town.
Five civilians in Wad Ashana were killed during the RSF attack, Sudan Tribune reported, citing a source named Ahmed Issa. The source also accused the RSF of looting the city's neighborhoods and arresting some civilians before releasing them.
Similarly, Emergency Lawyers—a group of attorneys monitoring violations by both sides—issued a statement saying that wounded civilians were evacuated to Tendelti, which is 25 km east of Wad Ashana: "According to local sources, Tendelti Hospital received 16 injured civilians, and the number of victims is constantly increasing until now, and efforts are being made to count them. This is a result of the exchange of fire between the two sides of the conflict (in Wad Ashana)."
Thanks for reading Sudan War Monitor. To receive new posts and support our work, sign up for a free or paid subscription.
Significance of the attack
Wad Ashana is a town along the El Obeid-Kosti highway, larger than a village but hardly a city. It is 50 km east of Um Ruwaba and 100 km west of Kosti. It has a secondary school, health clinic, and market. Although the town is small and likely was only lightly defended, its capture demonstrates the ability of the RSF to disrupt commercial traffic and military logistics along this important route.
The Joint Force led by Minni Minawi—a group of former rebels that signed the Juba Peace Agreement in 2020 and have remained neutral in the conflict—have escorted several commercial and humanitarian convoys along this route, which also connects East Sudan with Darfur, where Minawi is regional governor.
The army may also be using the route to resupply the 5th Infantry Division in El Obeid. However, the RSF captured the city of Um Ruwaba in August, cutting off the route. RSF reportedly withdrew from Um Ruwaba in mid-September. But yesterday they brought their wounded to the city, evacuating certain hospital wards and expelling citizens from houses, according to a military source quoted yesterday by Radio Dabanga—indicating that the paramilitary still operate freely in the city.
Dabanga also reported that RSF attacked an army outpost called Kilo 44 southwest of Um Ruwaba, on the road to Abbasiya, in conjunction with the Wad Ashana attack, at approximately 04:00 on Sunday: "(Radio Dabanga sources) indicated that a number of army personnel were killed and the Rapid Support seized a number of combat vehicles before their withdrawal into the city of Um Ruwaba."
In brief
The RSF have recently taken control of more of Hai al-Matar, an upscale neighborhood next to the Sudan Armed Forces (SAF) headquarters in central Khartoum, according to an article we published over the weekend.

Following publication of that article, satellite image analyst Tom Bike shared this GIF, which compares images from September 29 and September 24. "Scorched areas and burned vegetation… indicate it is an area of heavy combat with RSF. Locations validate Sudan War Monitor's assessment as contested area," he wrote.
According to recent geolocated video, SAF have carried out some longer-range patrols in central Omdurman from the base known as Corps of Engineers, including in Banat West (02:55, 15.628952, 32.475023), Fardous, and Abu Seid (15.594897, 32.459802). This could indicate that the RSF have redeployed troops to other areas, such as General Command, or that they are under increasing pressure and unable to maintain a tight siege.

Similarly, in southwest Khartoum, SAF troops based at Ammunition Corps patrolled as far south as Kalakla—an area previously firmly RSF controlled.

The Sudan Armed Forces bombed Hai Mayo Block 31 on Saturday, September 31, killing two civilians and injuring 20 others, including six children, according to the Southern Emergency Room, a group of hospital volunteers.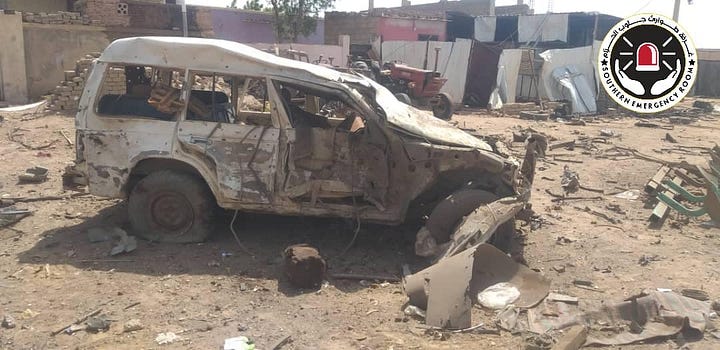 Stray bullets and shells in Al Thawra 3 in Omdurman killed five people, including four from one family, according to the local resistance committees.

OSINT analyst Faisal Elsheikh geolocated videos of damage reportedly caused by shelling in Al-Jarafa, Omdurman, which we mentioned in our last newsletter. The location shows the shelling took place along an important supply corridor between the SAF's Wadi Saidna Airbase and Karari military area.

There was shelling in Jebel Aulia south of Khartoum yesterday, and fighting continued in downtown Khartoum.