Shelling hits Medical Corps, Tuti Island, Ombada
Central Reserve in East Darfur defect to the RSF
At least six projectiles fell on Tuti Island in Khartoum on Sunday, July 16, according to a source on the island, which is controlled by the Rapid Support Forces (RSF). The army's nearby Medical Corps area also suffered damage from reported mortar and drone attacks Saturday and Sunday.
Tuti Island's western side faces toward the besieged Medical Corps, as well as the parliament building and the Banat Sharq neighborhood, which are controlled by SAF. This means the island could be used as a firing position to attack these SAF areas.
On Sunday, the Sudan Armed Forces (SAF) shared photos of damage at the Alia 2 Specialist Hospital, saying it was caused by artillery shelling that day. The hospital is about 1.2 km from RSF controlled areas on Tuti Island and Al Mogran.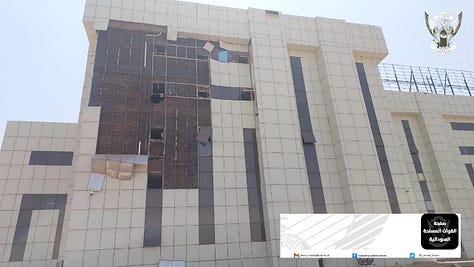 A conflict researcher told Sudan War Monitor that it was impossible to tell from these photos what type of weapon had caused the damage but based on the limited structural damage he speculated possibly an 82mm mortar shell rather than a larger variety of shell.
The army said that the attack caused damage to the dialysis center, intensive care, and operating room, as well as a number of inpatient rooms, and injured a sick woman in the center. Al Arabiya separately published a video clip of the damage.
Drone attack on military hospital
On the previous day, Saturday, July 15, the RSF targeted the accidents and emergency department at the Medical Corps Hospital in Omdurman using a drone, according to SAF. The statement said five people died.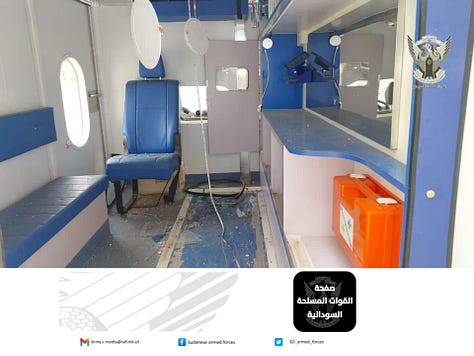 Artillery attacks on SAF positions in this general area have been reported before, but this is the first time that there was damage to medical facilities. The Medical Corps adjoins Corps of Engineers and the Nimeiri Military Academy, and together this complex poses a formidable defensive position that blocks the RSF from using the Fatehab Bridge and the White Nile Bridge, also called the Medical Corps Bridge.
Civilians killed in Ombada Al Sabil
Five people were killed and 22 others were seriously injured on Sunday, July 16, as a result of projectiles falling in Ombada Al-Sabil, Block Nine, according to the Ombada Emergency Room. Reports conflicted as to the cause of the casualties, with some blaming SAF and others RSF. The area is controlled by RSF. Previously we reported rocket artillery attacks in Ombada Black 16, west of this location.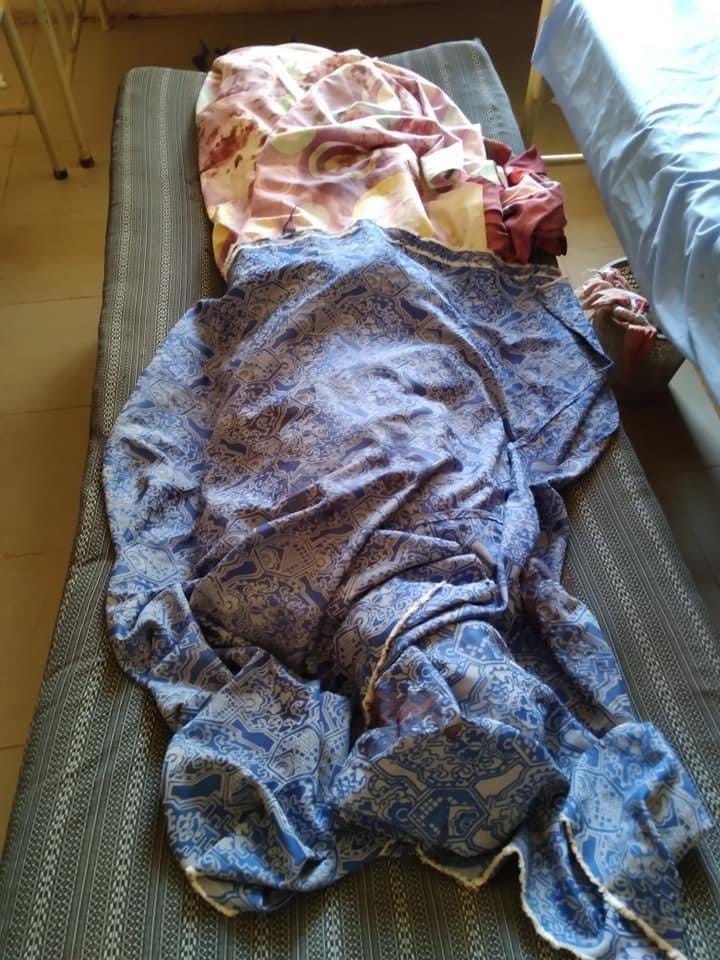 RSF consolidate control in South Darfur
The Rapid Support Forces yesterday issued a statement announcing that they had taken control of the headquarters of Brigade 61 of the Sudan Armed Forces in the city of Kass, located in South Darfur State, claiming they had capture the area commander with the rank of colonel and 30 men of different ranks, in addition to seizing a number of military vehicles.
In a development that could be related, they also announced that they welcomed 51 soldiers and officers from the SAF 16th Division in South Darfur into their ranks. "Led by SAF Major Gumma Abd Allah Mohammed, they have integrated into our forces, together with all their armaments and military equipment," the RSF said in a statement. They published a video of these defectors too, but there were not 51 of them. Because the brigade at Kass is part of the 16th Division, this points to the possibility of a negotiated surrender or defection without heavy fighting. Earlier this month, however, a SAF convoy near Kass was attacked and seemingly destroyed.
Meanwhile, members of the Central Reserve Police in Ad Daien, East Darfur, also defected to the RSF. "The force, led by Police Lieutenant Colonel Abdullah Shayeb, includes 270 officers, non-commissioned officers, and soldiers, in addition to 10 combat vehicles bearing full military equipment and armament, and six armored vehicles," the RSF said in a statement.
No statement has been issued so far from the Central Reserve Police Command in Khartoum or the Sudan Armed Forces Command to comment on the joining of the Central Reserve Police Forces in El Daein to the Rapid Support Forces.
In the below video, RSF and Central Reserve members are seen celebrating together at the news of the union of their two forces.
Evidence of 'systematic' targeting in Darfur
Yale University School of Public Health's Humanitarian Research Lab published a report July 14 about attacks on civilians in Darfur. The key finding:
"…at least 26 communities across Darfur have been systematically attacked or razed by RSF and aligned forces since the beginning of the conflict. These communities…have experienced a campaign of targeted destruction. In some cases entire communities have been razed. In other cases population centers have been targeted, including communities' civilian dwellings and neighborhoods, main marketplaces, schools, and other infrastructure or civilian protected objects necessary for the sustainment of life have been systematically targeted and destroyed. This is highly indicative of an intent by RSF and aligned forces to render these communities uninhabitable.
The attacks by RSF and its allies forcibly displaced at least 668,000 civilians, the conflict monitoring or estimated. The report contains detailed timelines of events in five Darfur cities. Here is an example of one of these.
The authors of the report noted that they would publish additional reports documenting violations of international humanitarian law and human rights law. The next report is expected to document allegations against the Sudan Armed Forces. The university's monitoring initiative is supported by the U.S. Department of State.
Casualty count at Al Nau Hospital
MSF Sudan stated yesterday that from July 2-10 the Al Nau Hospital, which it is supporting, received 397 people with trauma injuries in its emergency room, of whom 314 had gunshot wounds. The humanitarian organization added:
"The insecurity and consequent challenges in access are causing real shortages of staff and supplies for hospitals in Sudan, with healthcare workers sometimes unable to reach facilities due to the violence. Many facilities are closed or not accessible, those still functioning near the frontlines are overstretched, just when people's needs are at their greatest. In Al-Nao hospital last week, just six nurses & two doctors worked a 32 hour shift to treat the wounded and provide medical services for non-trauma cases. Medical staff are working round the clock with people volunteering to join the hospital and help their community."
Local medical sources had called the situation at Al Nau hospital "a disaster" on July 4, a day of heavy battles in Omdurman.
Correction
In our July 15 article "Army column suffers losses in Khartoum Bahri," we reported, "A video filmed from the Omdurman side [of Halfaya Bridge] shows SAF infantry advancing across the bridge, followed by technicals. Another video shows a traffic jam of returning vehicles. Analysis of the shadows in these videos shows the first was filmed about 07:30 and the second at about 9:00, indicating that SAF only spent about 1.5-2 hours on the other side of the bridge at most."
Subsequent analysis has shown that the first video was filmed on a different date, not on July 15. This was demonstrated by differences in the vegetation visible in two videos. Therefore we cannot say exactly when the SAF attack on Halfaya began on July 15, though the overall conclusion that SAF did not advance very far into Halfaya or stay for very long remains the same.
Thanks for reading Sudan War Monitor! Subscribe for free to receive new posts and support our work.